The hulking container ships that transport sneakers, bananas and Barbie dolls around the world keep getting bigger. So are the companies that own them.
A massive consolidation is underway in the $500 billion global industry and the survivors now enjoy big economies of scale and increased demand, one year after excess capacity caused the sector's worst-ever crisis — the bankruptcy of South Korea's Hanjin Shipping Co.
Asia's largest container line, China's Cosco Shipping Holdings Co., last month said it would pay more than $6 billion for rival Orient Overseas International Ltd., owner of the world's biggest vessel — a carrier longer than the Empire State building. Denmark's A.P. Moller-Maersk A/S is in the process of buying a German competitor and boasts its own fleet of mega ships, including one that can carry about 180 million iPads.
These super-sized shipping companies wield much more pricing power over manufacturers and retailers like Wal-Mart Stores Inc. and Target Corp. The five biggest container lines control about 60 percent of the global market, according to data provider Alphaliner. Shipping rates are climbing, and an index tracking cargo rates on major routes from Asia is about 22 percent higher than it was a year earlier.
"Container shipping is now a game only for big boys with deep pockets," said Corrine Png, chief executive officer at Crucial Perspective, a Singapore-based transportation research firm. The rising market concentration will "give the liners greater pricing and bargaining power," she predicts.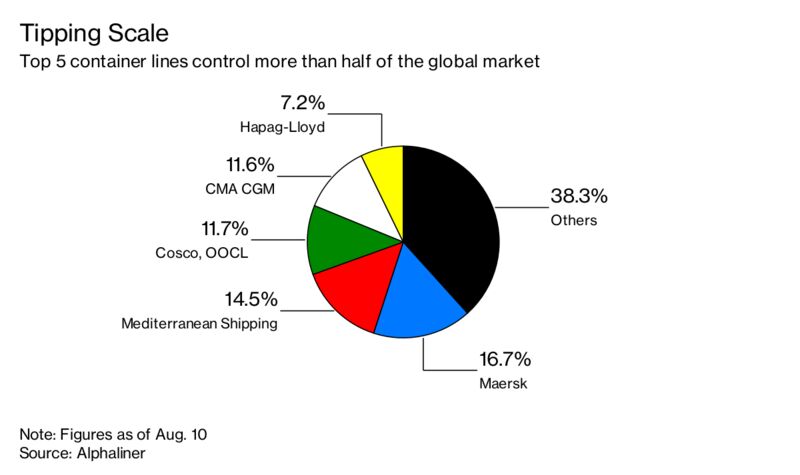 Hanjin's collapse, in August last year, upended the industry in much the same way that the bankruptcy of Lehman Brothers roiled the financial sector during the 2008 crisis. One of the world's largest shipping firms at the time, Hanjin faced a cash crunch as supply outstripped demand in the industry, weakening pricing power and profits for carriers. It is now in the process of being liquidated after a South Korean court declared it bankrupt in February.